By JOANN M. VALENTI
Kaiulani Lee's play — A Sense of Wonder, presented on stage at SEJ annual conferences in St. Louis and again in Chattanooga — was screened in a world premiere at the Vancouver Film Festival on Sept. 30, 2008. Sneak previews of the film took place at the Washington, DC Environmental Film Festival and the Maine International Film Festival earlier this year. The original two-act play, written by and starring Ms. Lee, is now a 54-minute feature film, shot on location in Maine at Rachel Carson's cabin by well-known cinematographer Haskell Wexler.
An award-winning actress, Lee has starred on and off Broadway, on television and in films. The play has been presented throughout the United States, Canada, and Europe for over sixteen years with performances at more than 100 universities, the Smithsonian Institution, the Albert Schweitzer Conference at the United Nations, the U.S. Department of the Interior's 150th anniversary and recently on Capitol Hill for Congress. A performance of A Sense of Wonder opened the 2005 World Expo in Japan.
The film, transformed from the play, is based on Carson's own writing, interviews with her colleagues and family, and extensive access to her personal papers. The narrative, a monologue, chronicles Carson's reaction to industry attacks after the publication of  Silent Spring as she also confronts a private battle with cancer.
The film — reenacted now with cutaways to Maine landscapes, the sea and her adopted son (her great nephew) Roger exploring the tidepools — like the play creates not only an intimate portrait of Carson, but brings the viewer into each scene as if she is talking directly to the viewer, sharing her thoughts during one of the most trying times of her life. It's time travel and you're now Carson's personal confidant.
I previewed the film on DVD in August and interviewed Lee by phone. (I tried email but Lee doesn't type. The play was written with pencil and pad.) The Vancouver showing had not yet taken place. She planned to attend the festival showing for only two days. She's booked to perform the play throughout India for the month of October.
Q. How long did it take you to write the play, and when did you first perform it?
A. I had never written anything. I didn't know how to write it. I had boxes of stuff, collected information, readings, research, interviews with dozens of people who had known her, worked with her, particularly her personal secretary. Carson's literary estate had opened the doors to her personal papers for me. William Shawn [retired editor of The New Yorker], who had been impressed with Carson's book The Sea Around Us and serialized it in the magazine, is an unsung hero. He helped open doors. I didn't know what would be the arch of the play. My husband said watching me write was like watching a cow eat. I never even made an outline. But I had the great luck of having worked with great playwrights. I had a sense of the architecture of a play. Somehow it all jelled. I knew I was telling an intimate story. I could see the staging in my head, where she would sit or stand. After three years, it all came together. The first performance [in 1991] was in a hotel theater in DC for NCAMP [the National Coalition Against the Misuse of Pesticides]. I was terrified. But when the lights went up I began to understand more fully the effect this play could have on people. Some in the audience were tethered to oxygen tanks, victims of poisoning. I was so moved.
Q. You seem to have been overwhelmed, completely booked with hundreds of performances all over the globe. With such obvious success, why so long before going to film?
A. My first instinct was live, let an audience experience life, not sit in front of a television. But everywhere I performed the play, people wanted "a copy," a recording of it to keep, to use in classes. Taping a performance is not good theatre. At the time, Ted Turner held the option for a film. When that ran out, I was given permission to film the play. There's no copy of the script, it's not published. The (2007) centennial (of Carson's birth) inspired the filming.
Q. You're listed as the Executive Producer. Tell me about financing the project.
A. I had never written a grant proposal. I used a bare bones, mom-and-pop approach. I contacted people who had seen the play and written to me. From June through the first week of August I wrote letters and made phone calls. In less than three months I had the support we needed. Everybody knew this would be a low budget production (working for little pay), but everyone loved the material. Our final production budget was only $200,000. Now we're working to finance distribution.
Q. How did you put your production crew together? Wexler [Director of Photography] seems an impressive coup.
A. A husband-wife team (Christopher Monger and Karen Montgomery) had seen my husband (an attorney) interviewed in a documentary film about food and later saw my daughter perform in concert. We were acquainted and I liked them. She's a producer and was looking for possible projects. He's a director. I hired them. They led me to Wexler, who had not yet seen the play, and then to a line producer from New York. We hired others from L.A. and added locals (from Maine), then shot in one week with a crew of about 14.
Q. Your performance filmed at Carson's cabin in Maine creates the feel of a reenactment, time travel back to experience Carson thinking out loud. How did you manage to arrange permission for the site?
A. I spoke to Roger (Carson's adopted son). I've known him for years. He said "sure!" He and his family still summer there. It's (the cabin) exactly as it was (when he and Rachel summered there).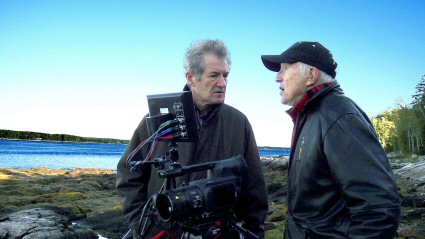 A Sense of Wonder Director Christopher Monger (L) and Director of Photography Haskell Wexler (R) on location in Maine. Photo courtesy SENSE OF WONDER PRODUCTIONS.
 Q. With most films, much ends up on the cutting room floor. Although the film seems true to the length of the play, I wonder if that was still the case in finalizing the 54 minutes of Sense of Wonder. Anything on the floor?
A. We had no B-roll! We just shot the play as two interviews. Then we cut out the questions. Chris (Monger) asked me questions; the answers were the next lines of the play. It was Haskell's idea, a way to keep the immediacy with the audience so it's not flat on the film. We didn't set out to do a big film. We didn't have the rights. We were limited by what we had. Wexler was brilliant.
Q. Now that you've seen an audience reaction to the film--in DC and Maine, soon in Vancouver-- would you change anything?
A. There are things you wish you could do with more money, more rights.... I've learned as an actress not to ruin the experience for people. The play and the film are so different. A film with one person [actor] speaking is so unusual. But within a few minutes they're (the audience members) caught in it. "She" pulls you in. There's laughter, they cry, tearing up...and, so far, a standing ovation.
Q. You've said Carson's adopted son, Roger, has seen the film. What has been his reaction? Are you satisfied you've captured the message and meaning Carson intended?
A. Roger was in tears the first time he saw the play. He was only six (during the time period depicted). He didn't know she loved him so much. When he saw the film, he said, "Oh my god it's even better than the play. This is magnificent." He loved it. The place is now truly there. Every time before a performance I ask for guidance, that I don't portray her as too ill, that I'm accurate, not too strident, that I find a balance. Do I think I got the essence, yes. It's a snapshot of her life. I want people to see that she started as a naturalist and became an activist. She had the science and the skill to write. She's such a role model, especially for young adults. Her courage inspires deeply. I want to show her as a human being, not only a gifted scientist or acclaimed nature writer. She had no partner, no old boys network, little money, a 9 to 5 job, and she was ill. She worked hard in the face of an infuriated Department of Agriculture and well-connected industry. She died at 56. But she changed the course of history.
Q. What's your goal for the film now? What comes next?
A. I've been told that Women's History Month (March) next year will highlight Carson. I want to work with them to find a way to get this film into every high school and college in the country. I'm also looking for foundation support to have the film everywhere by Earth Day 2009, at land trusts, churches, garden clubs, everywhere. This film's job is never done! It's like the play. My goal is to reach as many people (with Carson's message) as possible, and I can't be everywhere. I don't want us to lose her voice. Press materials are available at www.asenseofwonderfilm.com.
JoAnn M. Valenti, an emerita professor of communication, serves on SEJournal's editorial board.
** From SEJ's quarterly newsletter SEJournal, Fall 2008